Note: if you are not able to make the date of your designated committee boat duty, it is your responsibility to switch places with another skipper on the list
VYC Sailing Racing Safety Protocol – pdf 
Follow us on the Sailing Fleet's Facebook Group Page:  VYCSailing
AWARDS
Congratulations to the Winner of the Overall for A fleet for the VYC 2022 Racing Season:
Don and Carol Craske on Ayesha!!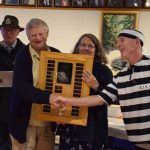 Congratulations to all the overall winners for 2022:
B fleet Overall 2022 Winners:
1st Cygnus
2nd Valuta
3rd Stormy
A fleet Overall 2022 Winners:
1st Ayesha
2nd Mystique
3rd Storm Castle Rock
The Rob Ladan Memorial Trophy was established in 2014 and is presented to the sailor who demonstrates his or her love of sailing, who goes above and beyond to promote the sport, and exhibits sportsmanship on the race course. The winner in 2022 is Jim Dillabough.  Congratulations Jim!


The Debbie Gittins Award was established in 2017 and is presented to the woman sailor who exhibits perseverance, commitment, enthusiasm, determination, love of sailing and the joy of competition.  This year's winner is Pamela Miller.  Congratulations Pamela!

RESULTS
A Fleet Hot Rum2022
B Fleet hot Rum 2022
A Fleet Fall 2022
B Fleet Fall 2022
A Fleet Summer 2022
B Fleet Summer 2022
A Fleet Spring 2022
B Fleet Spring 2022
Archived 2021 results are at the bottom of the page.

PHOTOS
Photos of the 2022 VYC Sailing Fleet's Windup and Awards Event October 29th, 2022.
Photos of the 2022 VYC Sailing Fleet October 16th Races by Pamela Miller.
There are more photos on our:  Vernon Yacht Club Facebook Page
Photos of the first VYC Sailing Shakedown Race of 2021 by Liam Fitzgerald.


2021 VYC SAILING RESULTS
B Fleet Overall 2021
A Fleet Overall 2021
A Fleet Hot Rum 2021
B Fleet Hot Rum 2021
A Fleet Fall 2021
B Fleet Fall 2021
A Fleet Summer 2021
B Fleet Summer 2021