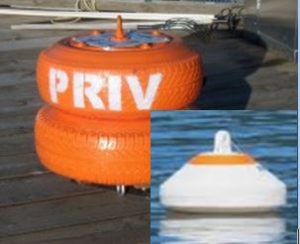 These Mooring Buoy's are private property of the Vernon Yacht Club.
As of 2008 VYC's Mooring Buoy revitalization program placed Buoys at Ellison Park , West Side Road Forestry Campsite, Agate Bay North, Agate Bay South and Fintry Light. Okanagan Lake Map showing VYC and KYC Buoys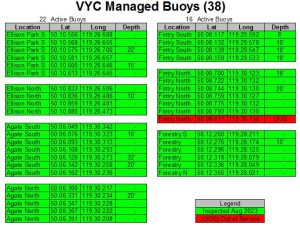 The hardware on the Buoys was replaced and updated as required with the mooring chain eye nuts replaced with a heavier stock. The Buoys were repainted and marked in accordance with Transport Canada Standards for Private Mooring Buoys. The GPS positions of VYC Mooring Buoys have been sent to Hydrographic Services for inclusion in any new publications of the Okanagan Lake chart
Mooring Chain inspection and upgrading will require the services of Divers. Volunteer Divers can contact Ken S at 250-545-5518.
More information regarding mooring bouys from The Canadian Coast Guard can be found here .
Although these Buoys are available for public use they are not for long-term usage by any one boat.
Vessels are to have a responsible adult in attendance at all times when secured to a Buoy.
Unattended overnight Mooring is prohibited
Vessel operators and guests are reminded that sound carries over water. Keep noise to a minimum and respect other's rights to enjoyment.
VYC Members may request to come alongside at any time.
Respect their rights of ownership. Failure to comply with conditions of use may result in the removal of the offending vessel and/or the Buoy.
Members are requested to notify the executive of any deviations from this policy.