Women's Sailing/Racing Season 2023
If you like the feel of wind and sun while skimming over the surface of blue water, then our Women's Sail/Racing season may be for you. We run a Women's sailing/racing season on Tuesday evenings and in 2023 it will run from May 2 to July 11.
Register to Participate March 1-31, 2023.
Beginning in May we meet at 6:00 pm at the marina gate. You will need a life jacket, sailing gloves and boat shoes. If you are interested in joining us and have a boat, you are most welcome – we will help you put a team together.  If you are interested but do not have a boat, we will put you on the list of interested crew and we will endeavor to find a boat for you to crew on. There are coached boats with an experienced skipper/owner to help improve your sailing skills.
The 2023 Women's Racing Series at VYC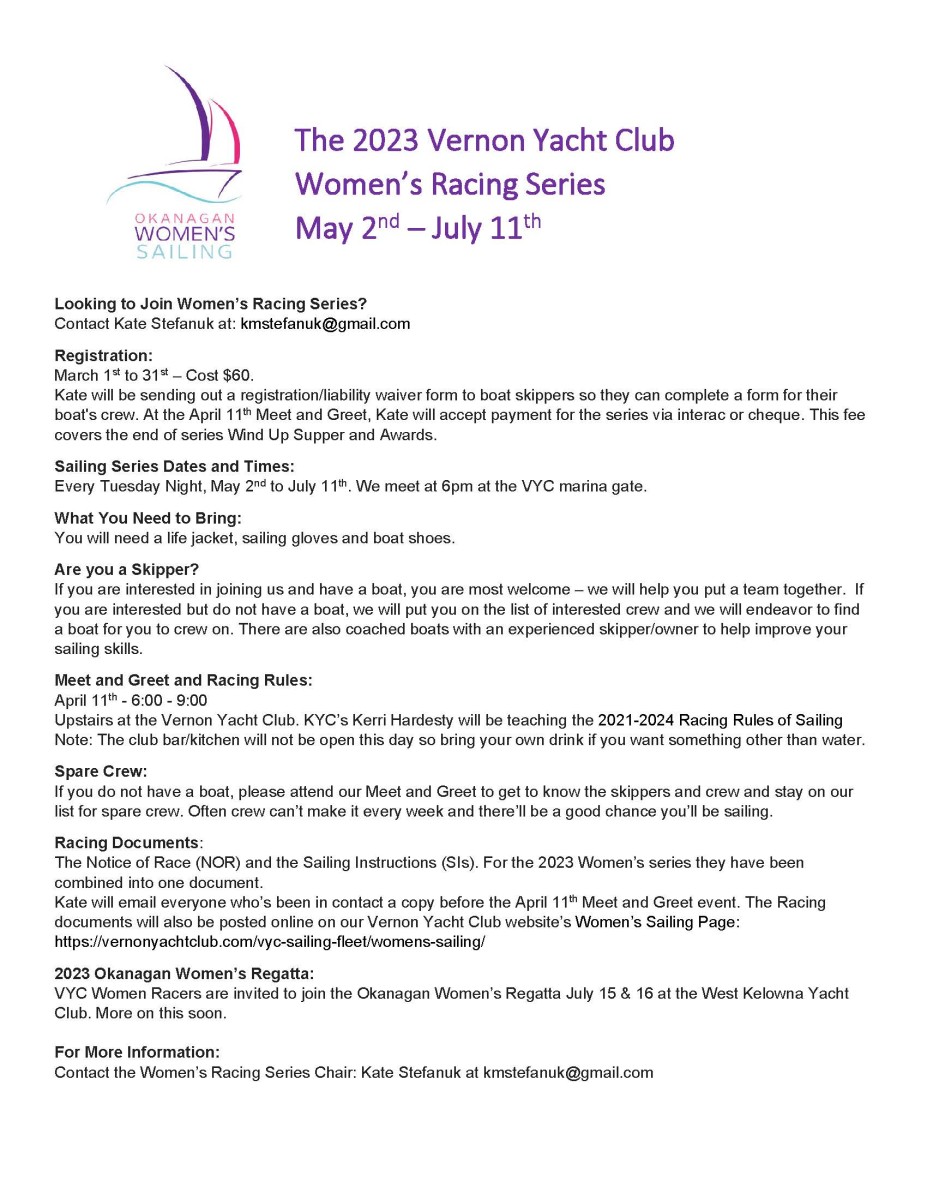 New to Sailing?
Now closed – If you are completely new to sailing the VYC Sailing Fleet is offering a Learn to Sail Program which starts with a "dry ground" classroom 1 day session March 11, 2023 followed by 4 on the water sessions on Saturdays mornings or afternoons in May and June. We do give preference to those who have sailing experience when putting teams together. Having basic sailing knowledge and practical training before participating in weekly Sailing/Race nights will generate more confidence and provide a solid basis to build your sailing skills.
Annual Okanagan Women's Regatta at the West Kelowna Yacht Club mid July
The regatta's goal is first and foremost to have fun and be safe, and secondly, to grow the number of women sailors in the Okanagan. If a VYC team and boat are ready and want to attend the regatta, contact the West Kelowna Yacht Club for details and registration. The 2023 Okanagan Women's Regatta is July 15 &16 at the West Kelowna Yacht Club. Boats from all Okanagan clubs are welcome to attend.
Women's Sailing Contact/Registration 
If you are interested, and would like to find out more or to register, contact our women's sailing coordinator Kate Stefanuk at 250 307 7070 or via email kmstefanuk@gmail.com.
Links
> Kelowna Yacht Club Women's Sailing Fleet
> West Kelowna Yacht Club's Women's Regatta July 15&16 tba
> Okanagan Women's Sailing Website
> Okanagan Women's Sailing Facebook Page
Previous Year's winners
| | | | | |
| --- | --- | --- | --- | --- |
| Year | 525 Fleet | PHRF Fleet | Coached Fleet | Host Club |
| 2008 | Shazam (G. Hayward) | Spoiler (Liz Balderston) | —–(no fleet) | VYC |
| 2009 | —–(no fleet) | Goldmember (G. Hayward) | Le Papillon (j. Hildebrand) | WKYC |
| 2010 | Contagious (G. Thomson) | —–(no fleet) | The Factor (T. Delorme) | PYC |
| 2011 | Ion (L. Balderston) | Ayesha (C. Craske) | Woohoo (A. Kaczmarek) | VYC |
| 2012 | Contagious (G. Thomson) | Ghostrider (K. Hardisty) | Fitzcaraldo (B. Hahn) | SYC |
| 2013 | —–(no fleet) | Contagious (G. Thomson) | Rocket Therapy (S. Tombe) | WKYC |
| 2014 | Captivator (C. Craske) | Ghostrider (K. Hardisty) | Rocket Therapy (S. Tombe) | WKYC |
| 2015 | Captivator (C. Craske) | Dauntless (S. Morris Probert) | Mystique (C. Laplante) | WKYC |
| 2016 | Shazam ( T. Lindsay) | Corona Bob (S. Ruuska) | The Factor (M. Sharpe) | WKYC |
| 2017 | —–(no fleet) | Wy Wurrie (M. Hales) | Ayesha (C. Appleby) | VYC |
| 2018 | —–(no fleet) | Contagious (G. Thomson) | Freedom | KYC |
| 2019 | —-(no fleet) | Always Something (K Hardisty) | Mystique (K. Stefanuk) | WKYC |
| 2022 | Newbie – Celerity (Madelyn K) | Contagious (G Thompson) | Margarita (A. Doward) | WKYC |