2023 Okanagan Charity Regatta
The Vernon Yacht Club is thrilled to extend an invitation for sailors to participate in the 2023 Okanagan Charity Regatta (OCR). A decade ago, the OCR was a 10 year event started by sailor Dave Ellis, and at the time raised the most annual donations for the local United Way. This year, we are once again rallying sailors to race for a cause and are inviting our community to raise funds for United Way BC and Community Foundation North Okanagan's many food security organizations and programs across the Okanagan Valley.
Sailors can support this cause by racing their best! The Okanagan Charity Regatta Committees will find sponsors and donors, and participating boats will be available for companies to sponsor with all funds going to charity. We will put your boat up for sponsorship on the OCR website, so let us know you're coming and we'll include you. You can visit our website at okanagancharityregatta.ca to register your boat.
But that's not all! We have an exciting opportunity for sailors to contribute while also enhancing their sail trim skills. Join the LIVE North Sails' Webinar on Sail Trim on June 1st at 7pm. This live webinar will be hosted by North Sails' pro coaches Drew Mitchell and Alex Levkovskiy and will be set up throughout the Valley. If you'd like to host a webinar in your area, please contact Pamela at pamelaswork@gmail.com.
We believe that by coming together and participating in events like the OCR, we can make a significant impact in our community and make a difference in people's lives. We hope that you'll join us in sailing for fuller plates and hearts!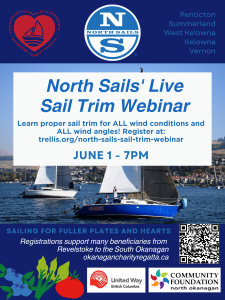 North Sails – LIVE Sail Trim Registration is Open: trellis.org/north-sails-sail-trim-webinar
All proceeds from the event will be donated to charity.

Your donations at work
All proceeds from the 2023 Okanagan Charity Regatta fundraiser go to United Way BC and Community Foundation North Okanagan to support the many organizations and food programs essential to the health of our communities. Your donations help us grow hope. For 10 years starting in early 2000, the Vernon Yacht Club ran an annual Okanagan Charity Regatta that raised hundreds of thousands of dollars for United Way. In 2023 the Okanagan Charity Regatta is fundraising for fuller plates and hearts.
~ The Okanagan Charity Regatta is raising funds in support of local and regional food programs essential to the health of our communities.

Community Foundation North Okanagan (CFNO) "For the 91,100 British Columbians experiencing severe food insecurity, making healthy food choices isn't an option. These people make difficult choices like skipping meals to feed their child or buying cheap instant meals like Kraft Dinner so they can purchase gas to get to work or pay for utilities." CFNO Better Together Fund &
CFNO – Protecting Food Security through Partnerships
~ CFNO wants to continue offering The Fill the Gap Food Program to low-income community members and they need your support to keep this program running.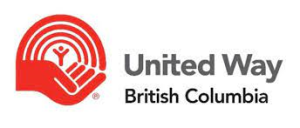 United Way B.C. (UWBC) "1 in 6 Canadians lived in a household facing a food shortage in 2020. For families with children that number is much higher, at almost 20%. Ensuring British Columbians have access to nourishing, healthy, and culturally appropriate food is vital to the overall health and well-being of our communities."
United Way BC Here. For Fuller Plates and Hearts & United Way & Land to Table Community Food Hub
~ United Way seeks partnerships with companies and organizations that share their values and commitment to help individuals and families here in the Okanagan move towards food sustainability.
100% of regatta funds stay local to our region
From Revelstoke and Salmon Arm to Central and South Okanagan, the United Way BC (UWBC) and Community Foundation North Okanagan (CFNO) charities support and work with these organizations to feed our communities:
UWBC Community Food Hubs

CFNO Better Together Program
The Good Food Box Society
North Okanagan Land to Table Network
Salvation Army Vernon – House of Hope Foodbank
North Okanagan Family and Youth Services
Okanagan Indian Band
White Valley Community Resource Centre
Canadian Mental Health Association
60+ Food Boxes
UWBC Schools Out Programs
Nexus BC
Social Planning Council of the North Okanagan
Food Action Society
First Nations Friendship Centre
Canadian Mental Health Association South Okanagan Similkameen
Central Okanagan Food Bank
Central Okanagan Region Nutrition Society (Meals on Wheels)
Hope for the Nations – Food for Thought
Karis Support Society
…and many more.
One of 18 United Way Food  Hubs in BC set up in the last few years
Thank You to our Sponsors!