Vernon Yacht Club's "Gandalf" was built by A.E Vroom of Brisbane, Australia in 1976.
Crane Day November 2015, was the first time Gandalf was lifted out of the water in 10 years and the hull's paint was in great condition. After sitting unused since 2010 its new owner, Andrew Spelchan, bought it in 2015, tuned the engine up and it now runs perfectly. The sailboat is made of fiberglass construction, and has a Volvo Penta MD2b diesel engine/running gear.
As the story goes, it was sailed to Vancouver in 1977 by its builder, Alan Earl Vroom
and resided t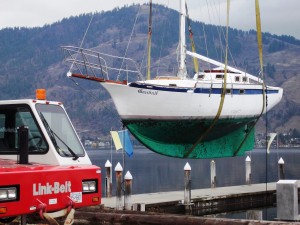 here under his ownership until 1986. From there it changed hands and spent time in Powell River until 1994 then returned to Vancouver under a new owner. In 2002 it was acquired by a Vernon couple and hauled to Okanagan Lake where it has been moored at VYC ever since.
VYC's Andrew Spelchan acquired the vessel in January of 2015 when the previous owners separated and left Gandalf and a trove of stories for a new owner to take on. Andrew says: "Reality is, next to a body hidden under the floor… I could really care less." Despite the vessel sitting unused since 2010, the boat is in sound condition, has a new mast and rigging as well as main sail plus a collection of 5 other sails. Overall it just needed some exterior restoration as well as general updating, which happens to be Andrew's profession as the owner of Distinctive Upholstery & Marine.
Before going back in the water on Crane Day April 16th 2016, Andrew explains Gandalf's overhauling as follows:
The exterior is being refi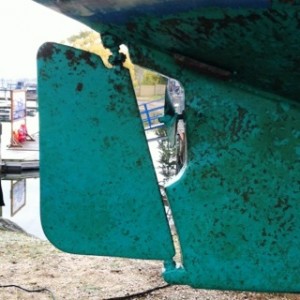 nished in AlexSeal Yacht paint. The top deck was stripped and completed summer of 2015. Lots of worn out hardware, and many years of single part paint were removed. There was a fine collection of homemade windows/hatches, all of which are being replaced with new Lewmar hardware.  The exterior mahogany is being done in Epifanes wood finish from Holland. Much research went into this choice as wood requires considerable maintenance and research has shown Andrew that this is the best (wearing-UV-refinishing) on the market and he's been so impressed by it so far, his business now carries their line of product.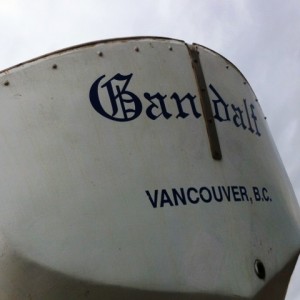 Since Gandalf's been on the hard, the refinishing of the hull has begun. The same process/product will be used as the top deck, just a different color scheme. The boat will be getting a general equipment upgrade as well and the current manual sanitary system is being replaced with a Raritan Vacuflush. The galley is getting a new Dometic fridge and the fresh water system is being replaced completely as it's patched together and manual.  Fortunately the interior is in rather good condition, so minus system upgrades, it will be left alone.
The top deck is receiving Lewmar Rope clutches to replace the worn out old cam cleats. The tracks, cars/blocks and lines are all in good conduction so will be cleaned up and reused. The bow will be receiving a roller furling upgrade, as well as the old manual anchor winch system is being replaced with a Lewmar electric system. "She'll be quite the ship once we've completed it," says Andrew.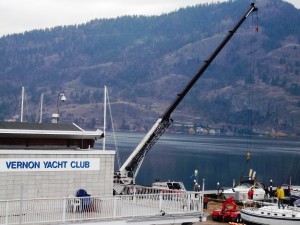 Gandalf will be going back into the water on Crane Day April 16th, 2016.
Crane Day is open to the public and will start first thing in the morning, April 16th and end around noon. The public can view the boats being lifted into the water from the Clubhouse Balcony and guests are asked to please park off-site to leave room for the Crane and Boat Trailers. There will be a light meal available for purchase and the Gang Plank will be open.
Andrew Spelchan will be bringing his business "Distinctive Upholstery & Marine" in a refinished Airstream to the 2016 Boat and Leisure Show April 30th and May 1st! The Boat Show runs from 9am until 4:30 Saturday and 9am to 4 on Sunday with a free Kal Tire shuttle every 10 minutes from Marshall Field starting at 8 am both days.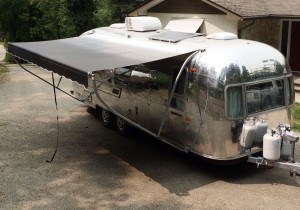 Look for Andrew there, ask about more stories on Gandalf and find out about his upholstery of boats, cars and many other custom applications.