2203 Okanagan Charity Regatta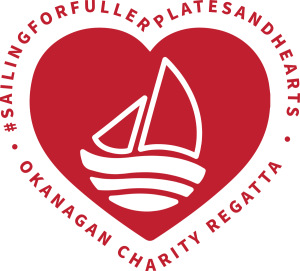 The VYC Regatta June 2-4
The Vernon Yacht Club is pleased to announce their annual VYC Regatta for 2023 is once again the Okanagan Charity Regatta (OCR)! Started by sailor Dave Ellis, the Okanagan Charity Regatta raised hundreds of thousands of dollars for charity for 10 years!
The Charities and Fundraisers
In 2023 the Okanagan Charity Regatta fundraising committee is hard a work raising sponsor and donor funds for charity including a "Sponsor a Boat" option with dollars raised going to support and sustain United Way and Community Foundation's many food security organizations and programs in our local regions. As in previous years, sailors purchase their registration for the races and this year our OCR fundraisers will rally for dollars which goes directly to the 2 charities. Sailors can support our charities by racing their best and getting word out about the fundraiser and regatta that is #sailingforfullerplatesandhearts!
For more information on sponsor or donor opportunities contact Sarah A. at sarah@sarahkennedyrealestate.com and Pamela M. at pamelaswork@gmail.com.
Okanagan Sailing Regatta is #sailingforfullerplatesandhearts
Here. For Fuller Plates and Hearts is the United Way slogan for their Food Security Drive. Read their impact story here:  https://uwbc.ca/stories/2022/here-for-fuller-plates-and-hearts/
>>> Community Foundation North Okanagan News 
>>> CFNO-2022-Annual-Community-Report

>>> United Way BC Food Security
>>> UWBC-Annual-Report-21-22
2023 Okanagan Charity Regatta Activities (coming soon)
Online Registration Opens May 1st – tba
June 2nd –  14:30 Vernon Yacht Club's Sailboats meet visiting boats at Whiskey Island for a race back to VYC. This race has a 4 hour time limit and the course may be shortened at Cameron Point weather determined.
June 3rd – 10:00 Full Day Race Starts (last race before 15:00)
June 4th – 9:30 Part Day Race Starts (last race before 13:00)
The 2023 Okanagan Charity Regatta is organized by Sailing Fleet volunteers, VYC member volunteers and the North Okanagan Sailing Association volunteers in various committees who meet once a month. Leading up to the regatta, staff and volunteer board members are also key in running the club facilities and including this annual sailing regatta in club activities and schedules. As chair of the Okanagan Charity Regatta I am immensely grateful for all those who are giving their time, skills and efforts in making this event happen,
Pamela M. (OCR Chair) pamelaswork@gmail.com
Sarah A. (Sponsorship/Donations for OCR Charities) sarah@sarahkennedyrealestate.com
Kate S. (Registration) kmstefanuk@gmail.com
Okanagan Charity Regatta Racing Documents (coming soon)
Notice of Race 2023 Okanagan Charity Regatta
Notice of Race 2023 OCR Whiskey Island Race
Sailing Instructions 2023 Okanagan Charity Regatta
Regatta Moorage for Reciprocal Club Racers
Reciprocal Club Racers need to register at least 5 days in advance of arrival at VYC. Here is the Reciprocal Moorage Request Form – 2023 Okanagan Charity Regatta (coming soon)
For more information contact Deb. M. at 250-545-5518 or email office@vernonyachtclub.com
2022 VYC Okanagan Regatta Photos