Vernon Yacht Club Commodore's Welcome
It is my pleasure and privilege to serve as the Commodore of this wonderful and unique Yacht Club. We are located at the North East arm of 89 mile long Okanagan Lake, and provide moorage facilities for both power and sail boats. We are proud to be part of a vibrant and growing boating and recreational community in Vernon. The club has been an integral part of the community since1953 and continues to grow each year.
Along with our Regular members we have a large Social membership that enjoys the facilities that the club has provided during our expansion over the past number of years. We are presently in the process of renovations to the breakwater and docks and will be providing an additional 30 slips to the club for its membership in the near future.
Our Mission Statement is to promote the enhancement of boating as a recreational and pleasurable pastime, to encourage inter-club and inter-community nautical activities and to provide facilities for any of the foregoing.
We welcome all of our friends at the Kelowna Yacht Club, West Kelowna Yacht Club, Summerland Yacht club, Penticton Yachting Community and Peachland Yacht Club–all of which share reciprocal visiting privileges. We look forward to offering our hospitality to all club members and guests and thank-you all for taking time to look at our website.
Best Regards,
Lawrence Johnson
VYC Commodore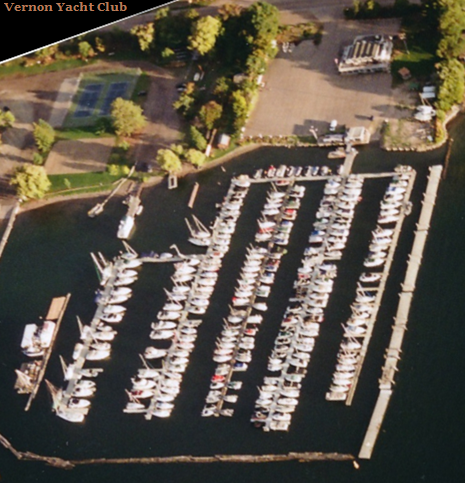 About Vernon Yacht Club
Vernon Yacht Club's membership numbers are close to 400 and growing steadily. Power and Sail boaters are evenly represented with boats ranging from 16 to 35 feet in approximately 285 mooring slips. Cruising to other Okanagan Yacht Club Marinas around the lake and visiting their clubs are favorite pastimes of many Vernon Yacht Club members.
VYC also has a very active Sailboat Racing Fleet of 30 boats that holds weekly competitions in the bay. Members of other Okanagan Yacht Clubs enjoy invading the VYC during our "Club Invasion" event and the club's spring time Okanagan Sailing Regatta is well attended by competitive keel boat sailors from throughout the valley and a few from other areas.
At Christmas and New Years, Vernon Yacht Club sailboats over-wintering on the water have evolved a tradition of dressing the rigging with lights and cruising the bay for enjoyment of Vernon residents. It is reported that some of these die hards sail each week, all winter long, on the almost ice-free lake. Other members volunteer to skipper a pontoon excursion boat "The Heaven Can Wait" for elderly and infirm members from our community. The concrete clubhouse has served us well and is frequently the scene of formal and not so formal socializing. Some members are also Power Squadron members and provide boating courses throughout the year. Recently the club has provided moorage and a meeting place for the Vernon Sea Scouts.
Now on course to its 100th anniversary, the Vernon Yacht Club's tradition of imagination, hard work, membership participation, and community service will continue to bring together those lively souls who love to mess about in boats.